Lama Lakhang, Chemday Monastery, Ladakh, J&K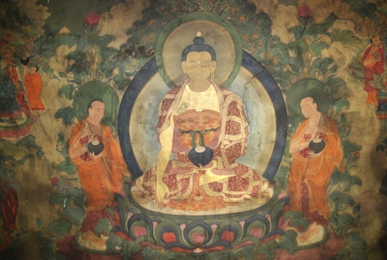 Chemday Monastery is one of the ancient monasteries related to Buddhist religion and is among those monasteries which still exist. This monastery is supposed to be founded by Stagsang Raschen, the great Lama along with co-operation from Dharma Raja Singey Namgial who acted as a supporter to the Lama for the establishment of this monastery. The monastery is supposed to be founded almost 365 years back by the Lama. The monastery is well settled on the high mountain side ever since its existence in the mid 17th century.
Chemday Monastery is located in the Chemday village which is a part of the Leh district of Ladakh, India and is almost 50 km away from Leh. Moreover the infamous sacred & holy picture of the Padmasambhava is another important attraction since this image is quite big, almost covering one storey of the monastery building. Along with it, there is a range of amazingly eye – catching shrines in the complex of this ancient Monastery. The Chemday Monastery is an astounding and attractive piece of architecture. Since the monastery is more than 350 years old but still majority of its artistic work has been saved and preserved due to continuous actions by Buddhist people. The monastery is a multi storey building. There is a big range of incredibly beautiful shrines in the complex of Chemday Monastery.
From 2013 onwards conservation team from ICI Delhi has been dedicately working on the wall paintings of Lama Lakhang, one of the chambers in the monastery. Initial stages of the work included conservation assessment documentation of these wall paintings that included historic images or records, photography, the condition survey record, and the record of any conservation interventions.
The major problems observed on these paintings were of cracks, detachment, tenting, powdering and cleavage in the plaster layer; Oil stains, soot deposition, flaking, powdering, losses, mud drippings over the paint layer; and previous restoration. Conservation treatments of the following problems have already been initiated from 2013.