Conservation of Flora Fountain, Mumbai
Flora Fountain, at the Hutatma Chowk (Martyr's Square), is an ornamentally and exquisitely sculpted architectural heritage monument located at the southern end of the historic Dadabhai Naoroji Road, called the Mile Long Road, at the Fort business district in the heart of South Mumbai, India. Flora Fountain, built in 1864, is a fusion of water, architecture and sculpture, and depicts the Roman goddess Flora and other mythological figures.
Over the years multiple layers of lime wash and paint were applied and due to this the details and decorative areas were not clearly visible. Also, these thick layers with time had degraded and started flaking off, damaging the sculptures in the process. The improper water flow and several water leakages had led to rusting, biological deposition, vegetation growth across the monument.
The main conservation work involves examination, analysis and documentation of the condition of the fountain. This includes both photographic documentation and graphic documentation. The cleaning of layers of lime wash and other thick deposits has been completed using steam cleaners. The previous interventions and fillings using cement plaster have also been removed.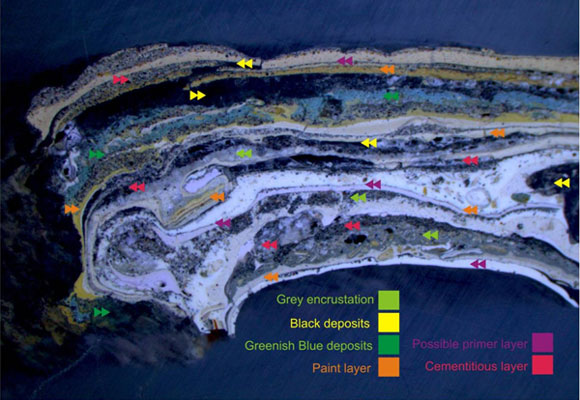 Cross section and scientific chemical analysis