Conservation of Monuments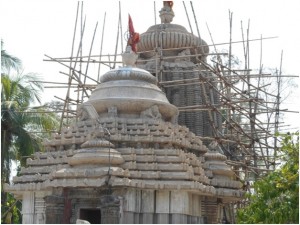 The conservation work of a 20th century tomb, the Kurupam Monument at Visakhapatnam has been successfully completed by the center with the help of the State Govt. of Andhra Pradesh, showing expertise of the centre in structural conservation.
The south facing sandstone monument, with a lime rubble core, raised in the 20th Century by the Kurupam family in memory of a lady member of their household was built on a high plinth. The structure approximately 9m in length and 7m in breadth comprised of an octagonal pillared porch surmounted by a dome. The Kurupam Tomb is an interesting monument with an amalgam of various Indian and Classical Western elements.  Decorative motifs such as oriental flower-creepers, acanthus leaves, geometric designs, high relief carving of Hindu deities embellish the external walls, columns and plinth.
The center with the help of its experts and the expert stone craftsmen from Raghurajpur, successfully restored the damaged monument. The salt effect in the monument was checked and the damaged areas of the monuments was restored with the help of compatible stone and plaster.